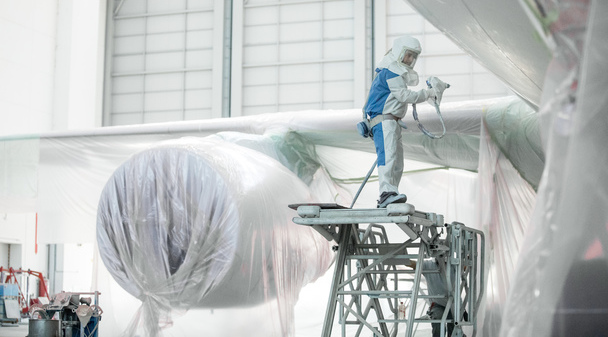 Aircraft Painters
Forming part of the Paint Shop, the Aircraft Painter carries out paint repairs and full paint scheme applications on aircraft external and internal components which include preparation of parts, sanding and paint stripping, and final application of paint as necessary. The role also involves the installation of aircraft placards.
Your tasks
Perform inspections and paint restoration repairs on aircraft external and internal parts and components according to his / her current authorization level and sign-off privileges;
Refurbish and restore the aircraft's paint scheme to the required level of standard ensuring adequate protection to aircraft's external and internal structural parts;
Ensure that internal and external parts are painted to the customer's specifications, maintaining industry requirements and standards;
Contribute towards the general appearance of the aircraft by performing tasks such as:
Performing a thorough inspection of the aircraft's overall paint condition on both the external surfaces and internal parts and components prior to the start of a maintenance input check in order to establish work requirements;
Sanding and paint stripping as necessary of the aircraft's external structural components and parts;
Performing of paint repairs or renewal of paint build up on aircraft's external surfaces according to the manufacturer's original paint schemes by applying multiple paint layers as necessary;
Renewal of paint build up on aircraft's composite components which are routed to the paint shop, applying special paint coatings as necessary;
Installing aircraft external placards and markings including installation of customer specific decals;
Sanding of the aircraft's internal components and cabin linings;
Performing of paint repairs or restoring of cabin interior components to manufacturer's original paint scheme in line with customer specifications;
Restoring the aircraft to its original internal and external paint condition and to the required level of standard in preparation of aircraft redelivery to the customer;
Engage in any other task commensurate with the role.
Your profile
The ideal candidate should:
Possess adequate work experience in aircraft painting procedures; and/or
Have experience in a similar industry such as in the automotive and marine industry;
Possess a spray painters' course such as the MCAST Diploma in Automotive Repair (Body and Paint) or an equivalent course;
Have a strong demonstrated commitment to detail, precise and high quality work;
Be a good team player;
Be ready to work shifts including weekends.
Your chance
We offer you an attractive position in a global and dynamic company in the aircraft maintenance business. Direct applications will be treated with priority.