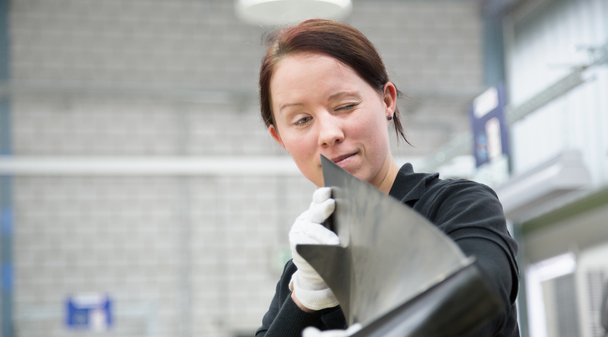 Sheet Metal Workers
Forming part of the Support Shop team, the Sheet Metal Worker carries out maintenance tasks on aircraft structural elements and components, according to one's current authorization level. Tasks will mainly consist of inspections, damage assessments, performing damage repairs, and engaging in component or part replacements and in the embodiment of aircraft modifications.
Your tasks
Perform inspections, damage assessments and classifications, damage repairs, component/part replacements and embodiment of aircraft modifications according to his/her current authorization level and sign-off privileges by;
Correctly identifying of structural parts/elements;
Correctly defining nature and type of damage taking measurements as necessary;
Determining if damage is within or exceeding allowable/repairable limitations after comparing established data against criteria provided in technical documentation;
Performing necessary repairs (including fabrication of repair parts as necessary) or preparing a damage assessment report (supporting the Technical Reporting Officer);
Replacing effected damaged parts;
Carrying out Repair Instructions as provided by the respective OEM;
Note: all of the above being carried out using the relevant approved Repair Manuals, Drawings/Technical Instructions as provided by the OEM.
Take up responsibility of an "aircraft zone/section" including leadership of other Permission Level 2 and Level 1 Sheet Metal Workers assigned to work with him/her in that respective area;
Ensure an efficient workflow during the respective ground time input by;
Overseeing that clocking of job cards is done correctly;
Ordering repair parts and materials in a timely manner
Distributing resources effectively
Planning ahead and coordinating as necessary
Support the respective Bay in accomplishing the ground time input according to milestone plans/work schedules (including closure of job cards in a timely manner);
Support the assigned Permission Level 2 and Level 1 Sheet Metal Workers in any technical matters that may arise during the respective ground time input;
Raise, update and complete/close routine and non-routine job cards by;
Signing off of work performed in a timely manner
Ensuring that assigned Permission Level 2 and Level 1 Sheet Metal Workers sign off their work in a timely manner;
Note: ensuring the above is carried out according to SRT qualification profile and sign off privileges.
Prepare and report job status during handover at the end of shift;
Adhere to company procedures, maintaining Safety and Quality standards at all times, reporting any discrepancies to respective Manager/Team Leader, generating SMS reports as necessary;
Maintain a safe, organized and clean work environment according to in house 5S principles, including proper usage of tooling;
Maintain and carry out regular tool box inventory checks;
Manage and maintain one's personal logbook and training records;
Perform other tasks commensurate with the role.
Your profile
The ideal candidate should:
Possess adequate work experience in sheet metal or in a similar industry; and/or
Possess a sheet metal course such as the MCAST Diploma in Aircraft Structures & Repairs or an equivalent technical course.
Your chance
We offer you an attractive position in a global and dynamic company in the aircraft maintenance business. Only direct applications will be considered.